Glimpses of Meridian, Mississippi
---
Trains
Part 3
Dunn Roadbuilders Railroad
As noted - Meridian has a long history with railroads - and it's location has become a cross-roads for both highways and railways. So what's more fitting than Meridian being chosen as a supply hub for both? Dunn Roadbuilders thinks so - and has located a very large multi-modal construction material storage and distribution center at the east edge of the city adjacent to the Norfolk Southern tracks that run between Meridian and Birmingham, AL. The yard is especially equipped to handle huge amounts of rock aggregate hauled in by rail gondola cars, dumped into a conveyor system, and transferred out into storage piles located about their facility - where it can then be loaded onto trucks for delivery to job sites about the region. Having their own engine to spot and transfer the various rail cars makes their operation both efficient and unique. So Meridian now has two "local / shortline" railroads. How many even very large cities can boast of that?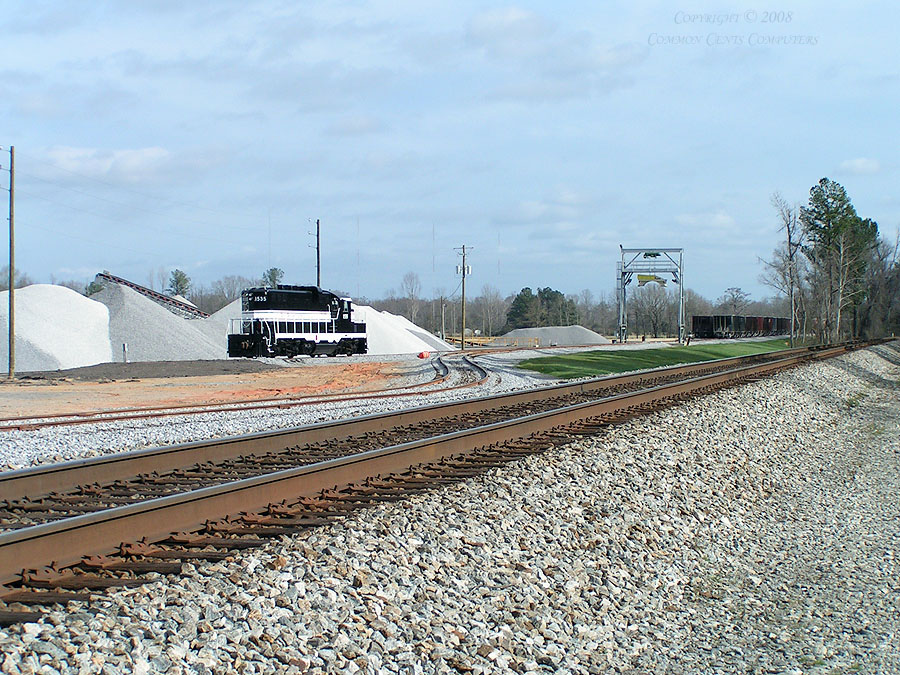 Rail car handling facility for gravel delivered by gondola.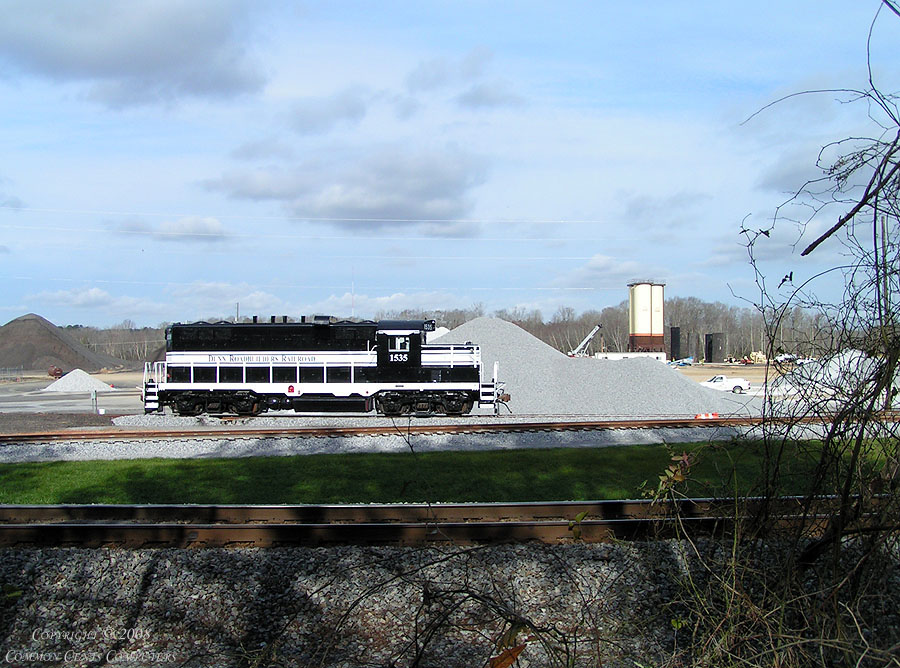 Some of the storage and handling areas for other types of materials can be seen in the background.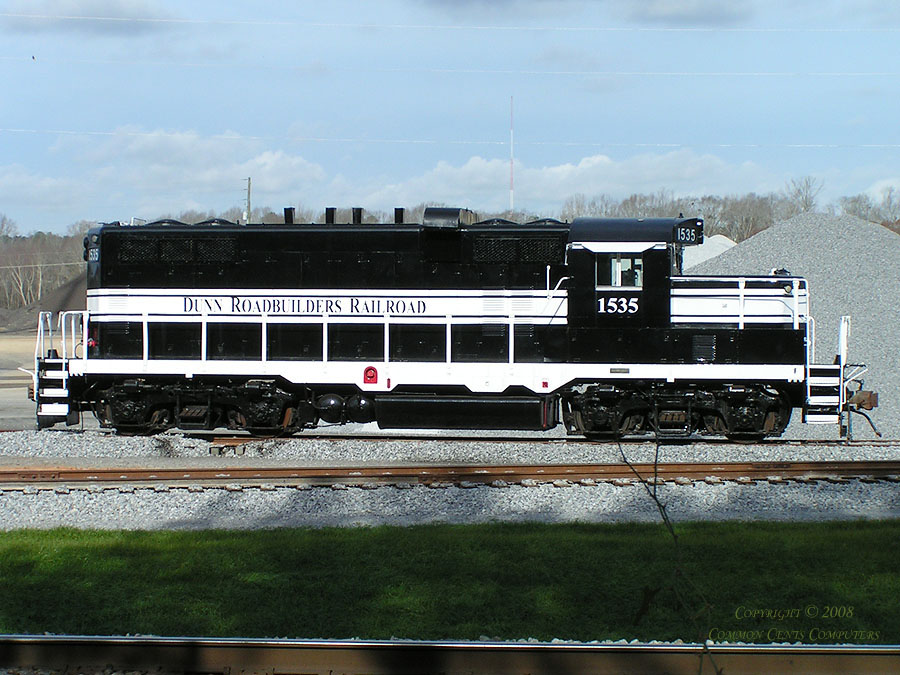 Dunn Roadbuilders Railroad engine 1535 parked at the end of the handling spur.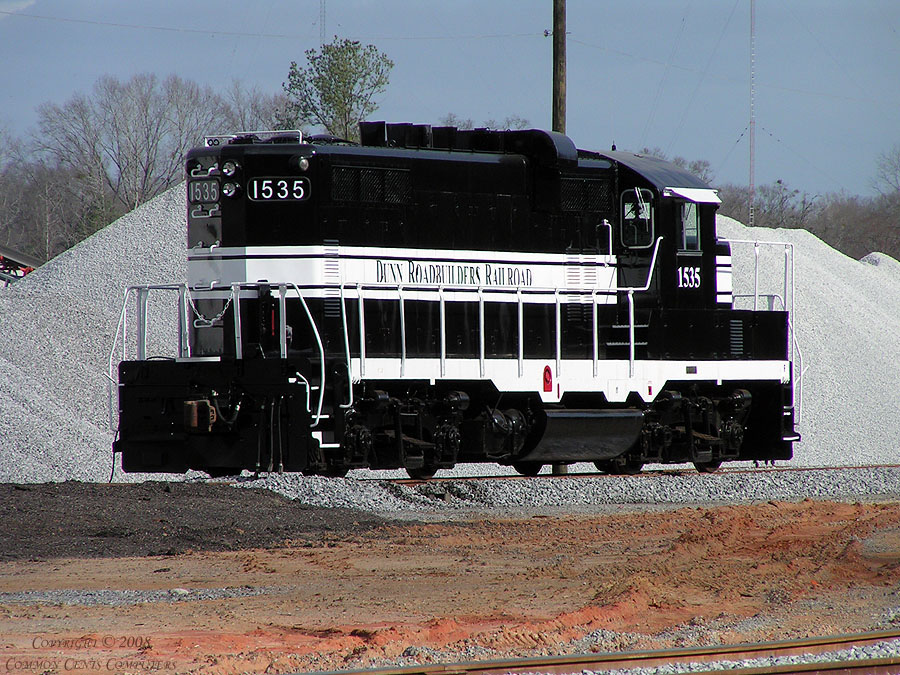 Dunn Roadbuilders Railroad EMD GP 8
A positively gorgeous restoration of a fine old piece of equipment.


Unlike the "executive" show locomotives of KCS and Norfolk Southern - this locomotive will definitely earn it's keep!
For those that aren't familiar with EMD (Electro Motive Division, General Motors) the EMD GP 7 / 8 series are 1950's vintage. They were built as medium power "road switchers" - designed to work much like a yard switcher - only out on the "main lines" shuttling cars to various locations relatively short distances from the yard.
This engine was originally built by EMD as a GP7 #513 for the Saint Louis and San Francisco Railroad, and was rebuilt in the late 1970's by Illinois Central Railroad at their Paducah Kentucky shops. Work done at that time was included several upgrades which had been incorporated into the late GP 8 - such lowering the nose ahead of the cab allowing for better visibility; and upgrading the engine from 1500 to 1800 horsepower.
When Dunn Roadbuilders purchased the engine - they had it completely refurbished and painted before putting it to work in their Meridian yard.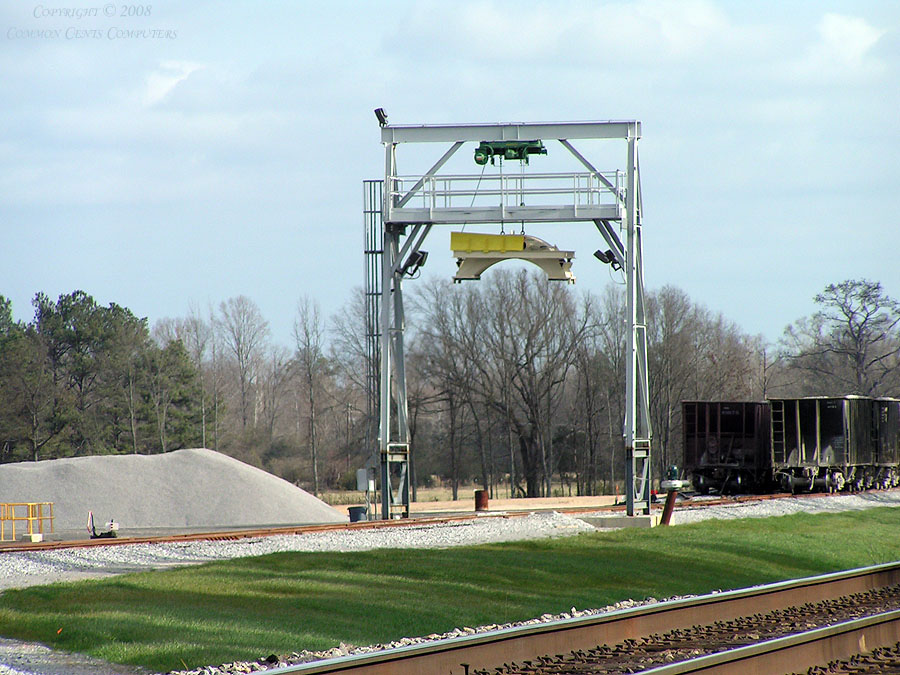 Hopper car unloading station. Hopper cars "dump" through grates between the rails onto a conveyor (visible in the first picture - emerges at the yellow barricade - also just visible here) - and is then transported to the appropriate storage or loading area. The gantry structure supports an ElectroLift winch which carries the Mesto "Car Shaker" to help "shake loose" jammed and stubborn loads.
---
---
Email: Randy and Sherry Guttery - Comcents.com
---

Back to Glimpses main page
Glimpses of Meridian, Mississippi
Contents of this site are copyright © 2007 & 2008 Common Cents Computers. All rights reserved