Glimpses of Meridian, Mississippi
---
Planes - Part 2
As mentioned in Planes Part 1 - Meridian has a long and proud association with aviation- from the Key Brothers inventions and daring innovations - through the present with the Mississippi Air National Guard186th Refueling Wing, and their fleet of KC-135R tankers - and the Army National Guard 185th Army Aviation Support Facility, Company G. - who operates a fleet of CH-47 Chinook heavy lift helicopters. Eventually a good many pictures of the activity in and around the airport will be presented here - this "first edition" has only a few to begin with...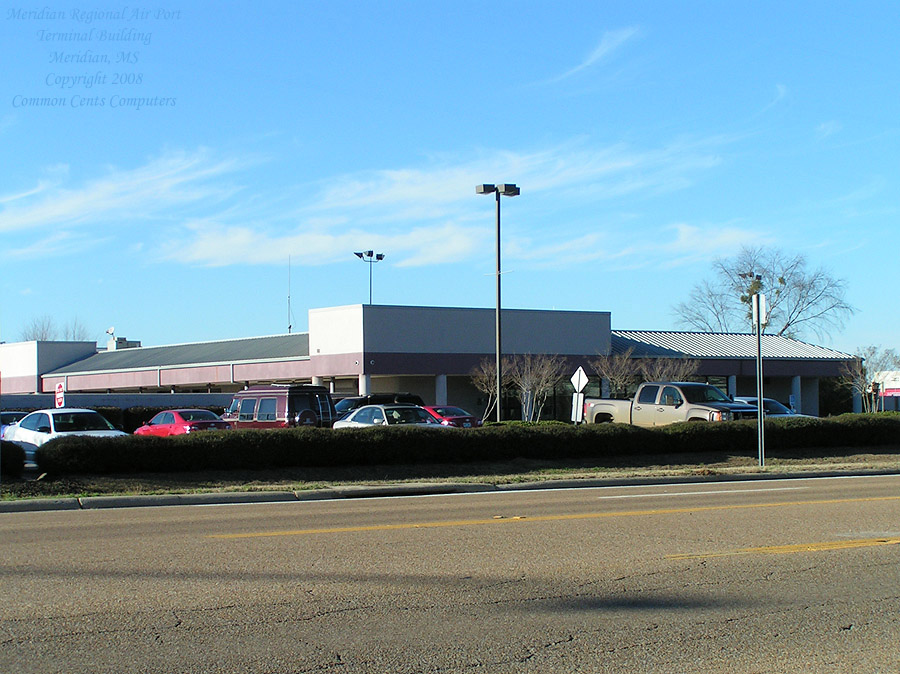 This is Meridian Regional Air Port - Terminal Building - with the control tower in the background to the left. Meridian has one of the most convenient Airports for travel anywhere. The terminal has easy access, close by parking (both short and long term), and has a clean modern facility for public travel. Meridian also has excellent facilities for private aviation - with complete maintenance shops, fuel and flight ops. Meridian has the longest commercial runway in the state - and because of the presence of the Air Guard who provides Fire and Emergency services, Key field has some of the most capable emergency response in the southeast. It's not uncommon for very large commercial flights who develop a problem in the region - to be sent to Meridian because of the long runway - and excellent emergency services. Because of Meridian's activities - getting the runway cleared for an emergency takes a very short time. With the Choctaw casino just 45 minutes away - Meridian's airport is often used by charter flights on "Gambling Junkets" - particularly when the Charter Jet is a 737 or larger - too large to land at Philidelphia. Key Field is also a favorite stop-over field for Lighter-than-Air Ships making an east-west transit. Key field is also equipped to handle their "unusual" needs. You can usually tell when one is coming in - you hear this "drone" in the distance that's going no where fast - and look up to see a large floating ship drifting down towards the field... Quite a sight.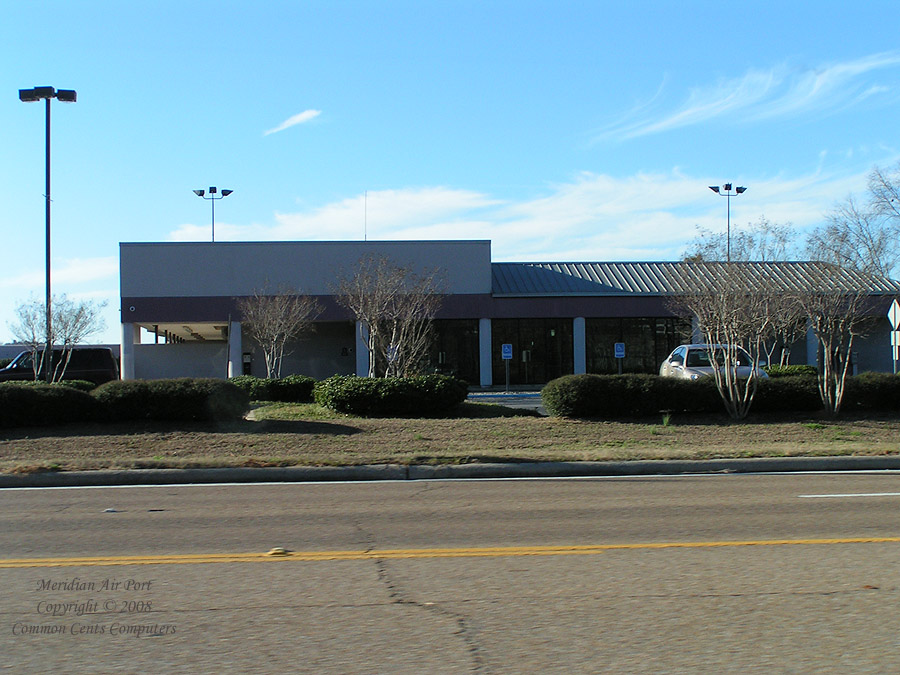 Front doors - concessions, car rentals to the right - baggage claim (and aviation displays) to the left - Ticketing and check in straight back.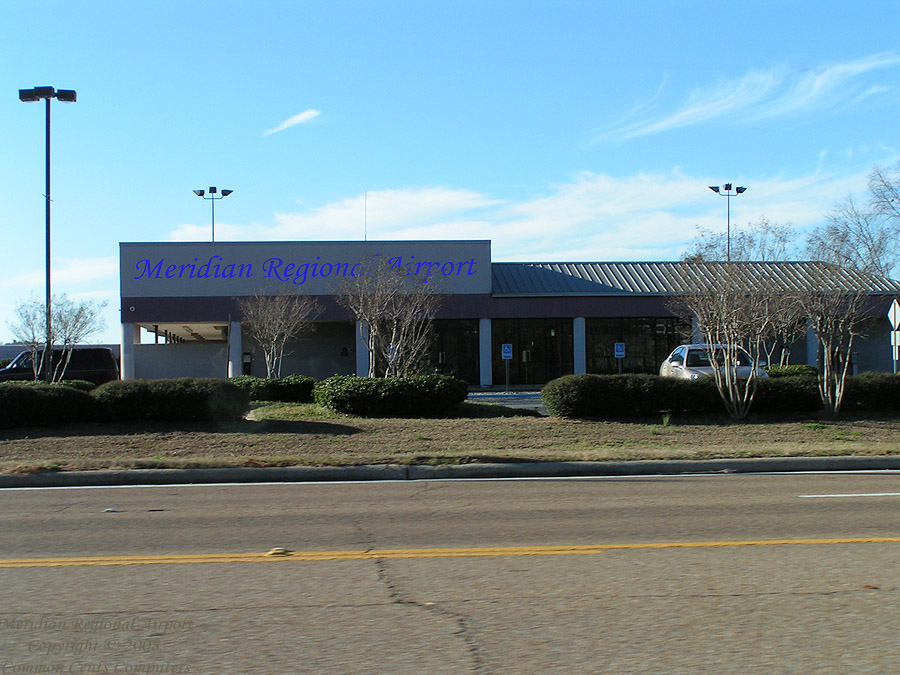 Of course this is how it should look, but I guess we'll have to figure out how to get the sign into some budget someday...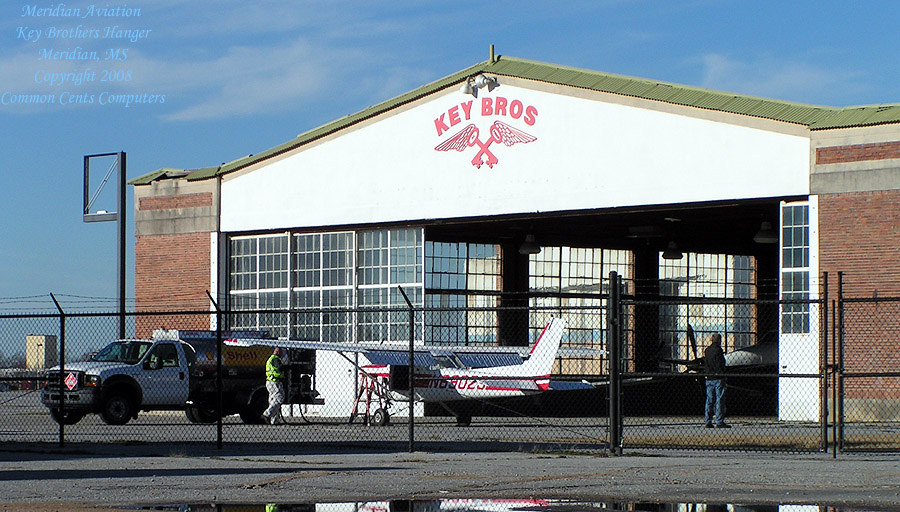 Meridian Aviation in the Key Bros. Hanger. These guys can take care of just about any need in civil aviation - from puddle hopper props - to state of the art jets.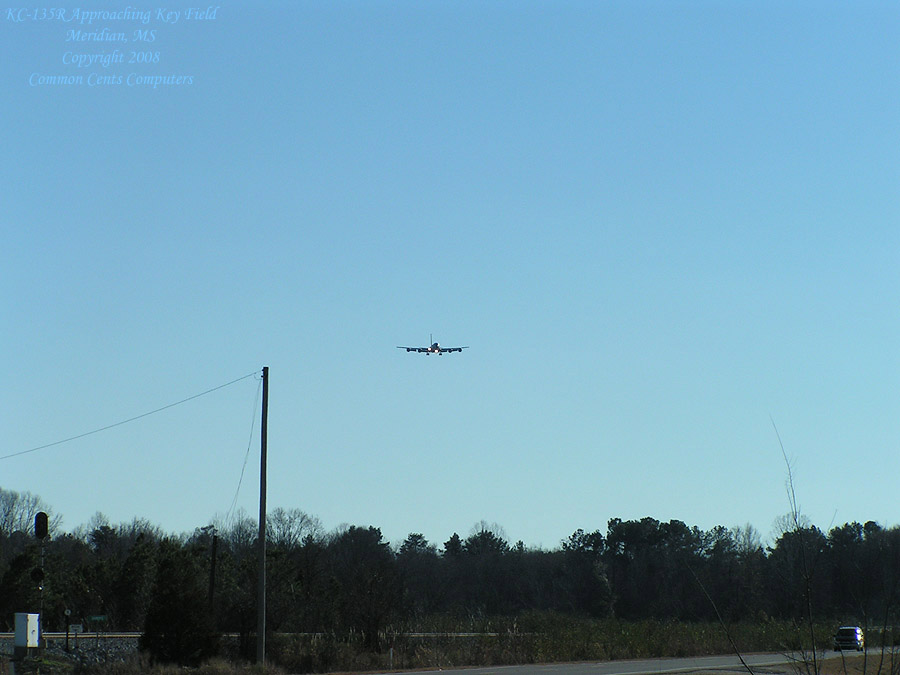 KC-135R lining up on the main runway. You don't realize just how big these things are...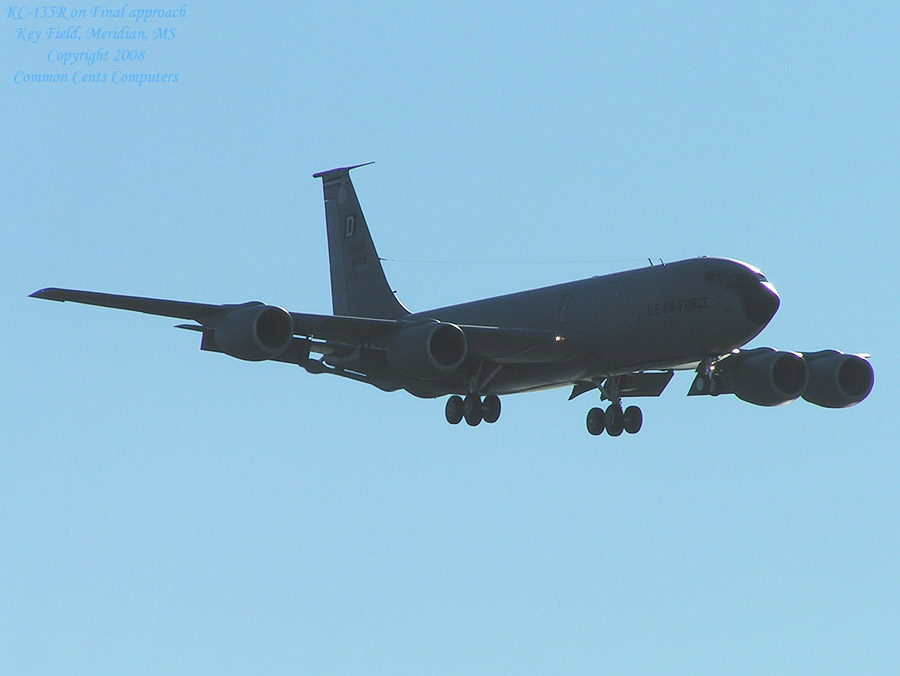 Until one rumbles over your head. The 186th flies in support of United States Air Operations all over the world. Some of the planes and their crews just returned from fueling missions in Afganistan and Iraq.


Update Note: In accordance with the 2005 BRAC - the 186th's KC-135Rs have been "re-distributed" to other units - on March 25th, 2011 the last KC-135R departed Key Field. The 186th Air Refueling Group will be officially re-designated as an Air Lift Wing when it's mission fully shifts to flying the brand new C-27J Spartan medium transport. Current plans call for 75 Spartans to be deployed eventually among several United States National Guard Units. The 186th ANG unit at Key Field is to be assigned 6 Spartans under that mission. In addtion - Key Field has been choosen for the the location of the ANG's primary training unit to train Spartan crews; which will add another two C-27Js. While Meridian is sadden by the loss of the refueling mission- we're pleased that Meridian has been choosen for two new missions flying one of the newest aircraft in the military.
C-27J demonstrating it's climb-out capability
---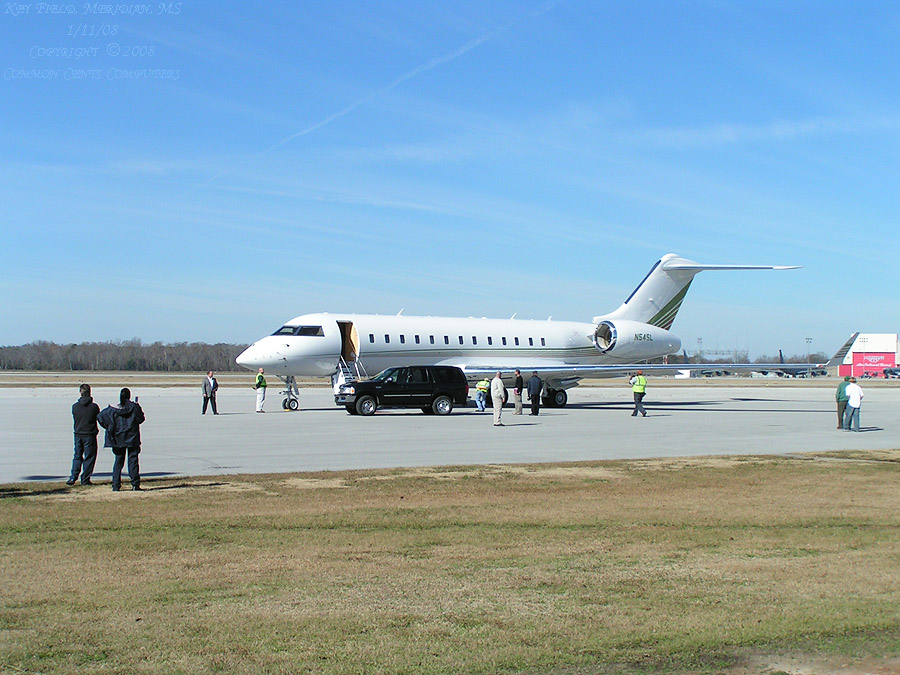 As mentioned above - Meridian has excellent facilities for civil aviation. Here a private jet - a top of the line Bombardier Inc. "Global Express" has just arrived (1/11/08) bringing a celebrity to Meridian. Depending on configuration - the Global Express can accommodate up to 23 passengers - and can fly non-stop New York to Tokyo. This particular plane doesn't go to Tokyo very often - but it is often seen in Hawaii. You can see several KC-135Rs parked at their base at the far end of the runway.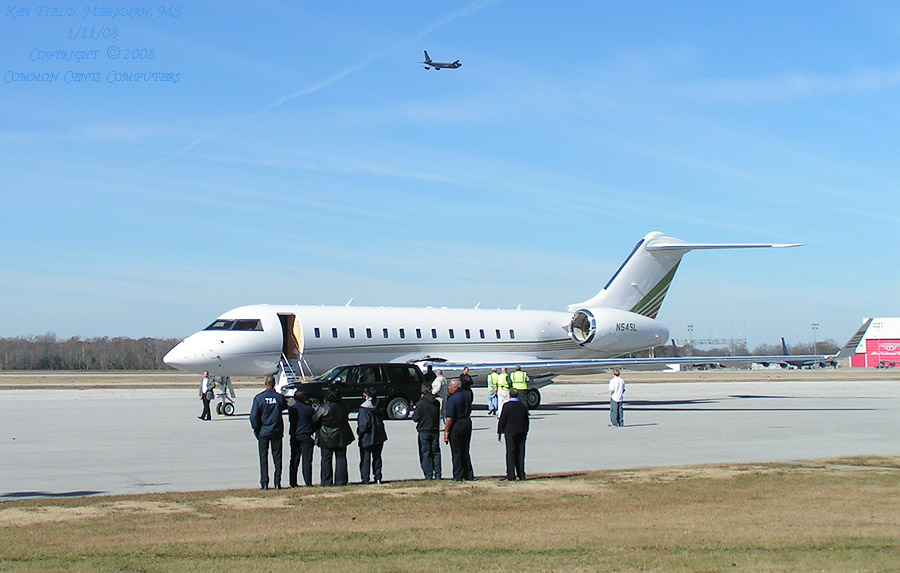 While another KC-135R flies by... This particular "Global Express" is registered to Harpo, Inc.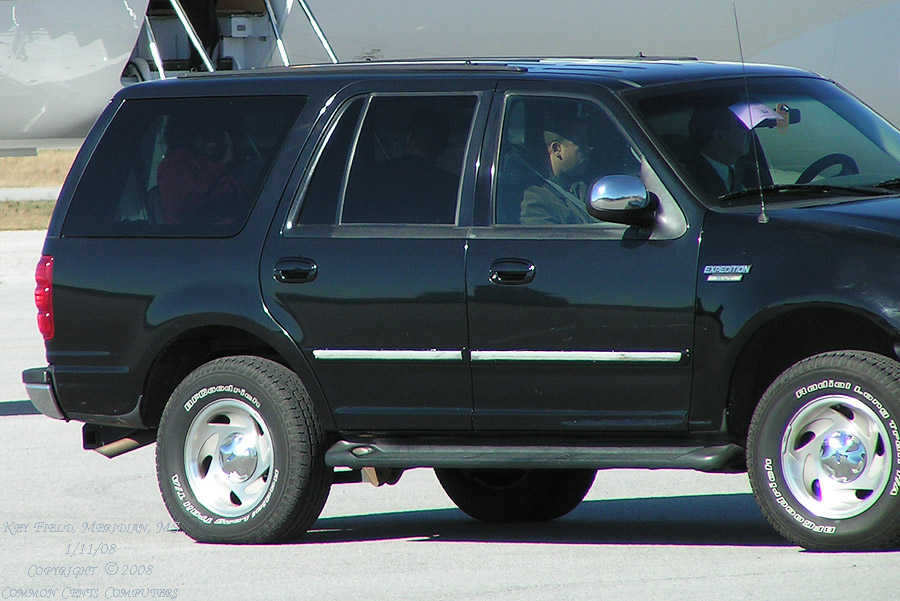 Once off her plane and into the waiting SUV - Oprah gives a big smile and a wave on her way to Downtown Meridian...
---
Email: Randy and Sherry Guttery - Comcents.com
---

Back to Glimpses main page
Glimpses of Meridian, Mississippi
Contents of this site are copyright © 2007 & 2008 Common Cents Computers. All rights reserved