Glimpses of Meridian, Mississippi
---
Planes
Part 1
One of my best friends was a gentleman by the name of Bill Neville. He was quite a character - his "day job" was as an attorney - where he worked most often as a public defender - defending those who were unable to hire their own attorney. His family had long been involved with such matters - his father - Judge Neville was known for his Civil Rights work - and his work with the poor -- he was the founder of "Love's Kitchen" which to this day - some 23 years later -- serves roughly 1000 hot meals a week to people who can't afford to buy their own, or are infirmed and unable to cook for themselves (a major supplier of "Meals on Wheels").

While Bill's day job was somewhat routine and sometimes boring - his "other job" was a bit more exciting . Meridian, Mississippi is the birthplace of in-flight refueling - invented in the 1930s by the Key brothers at the airfield here in Meridian which now bears their name. The World Flight Endurance record set by the Key Brothers in 1935 still stands today. Today - a fleet of Boeing KC-135R tankers is stationed at Key Field - flown by the Mississippi Air National Guard186th Refueling Wing. Bill - having been a Phantom F4 pilot during Viet Nam, and still active with the Air Guard until he retired in 1998 - flew one of those KC-135R on whatever "missions" he drew.

One day he was on his way out the door to fly a "mission" and decided to call and let me know where he was going - and maybe to brag just a little. When I heard who he was refueling - I noted that of course he had his camera loaded with film - "ah - no - hadn't thought about it"... Well - fortunately - as Bill traded his "attorney hat" for his pilot's cap - he also found his camera and snapped several pics out of his canopy - some of which we share here...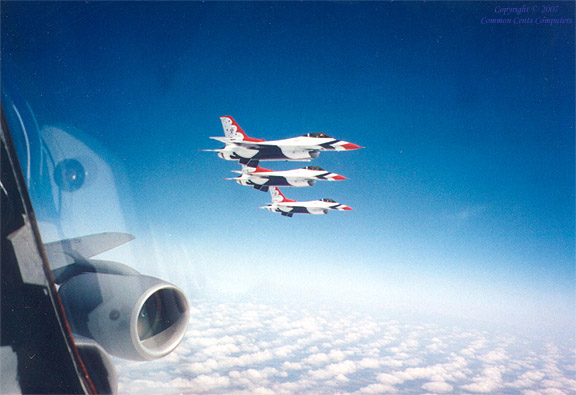 Three Thunderbirds approach to "chat" while three more line up to take on fuel
"Parked" along side Thunderbird 2, 4 and 5 chat with the crew
---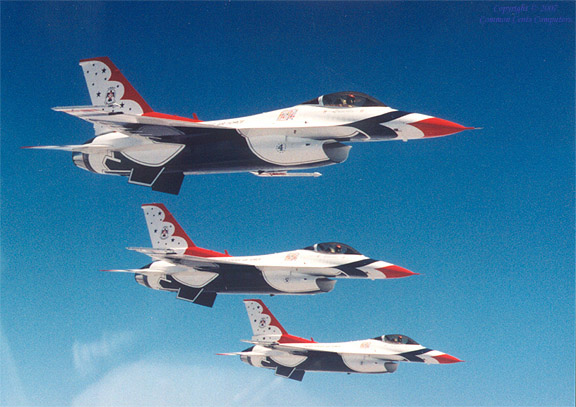 Rotating though... Thunderbird 2 has dropped back to refuel- Thunderbird 6 "parks" outboard of 4 and 5.
---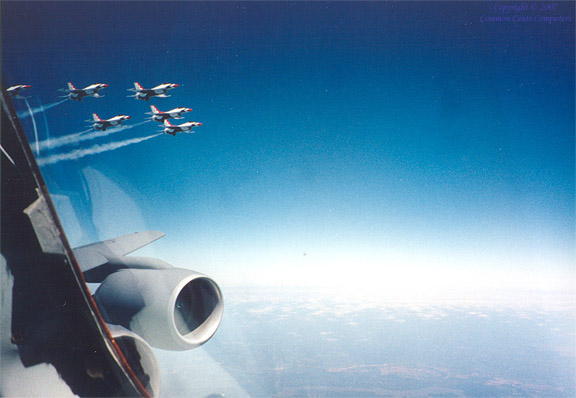 After all six have taken on fuel - they come around for a pass - showing smoke for the camera (and perhaps thanks for a drink!).
---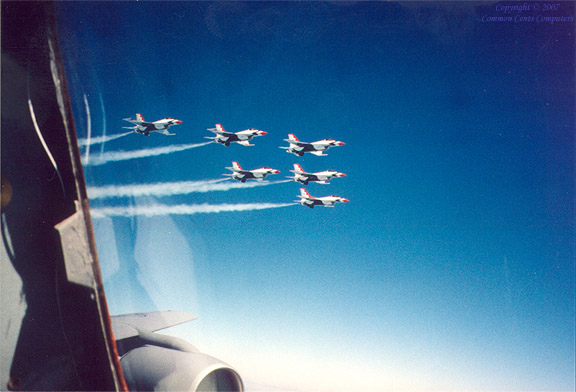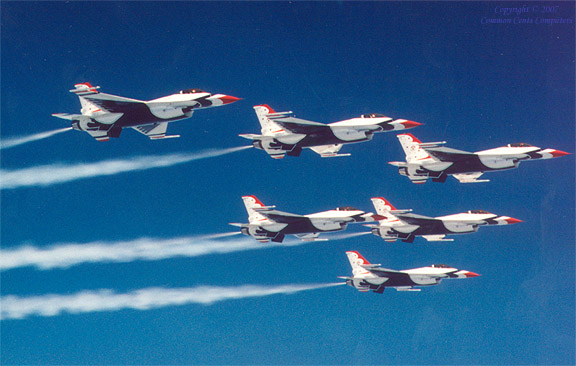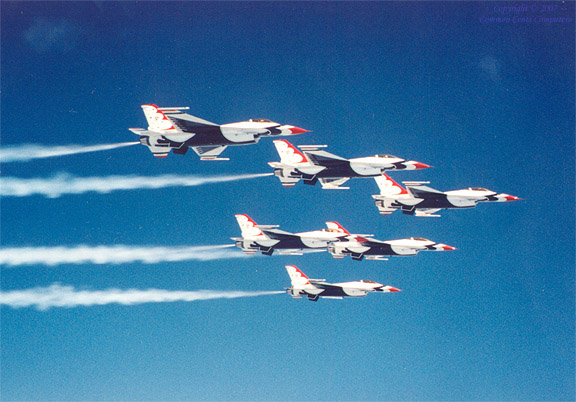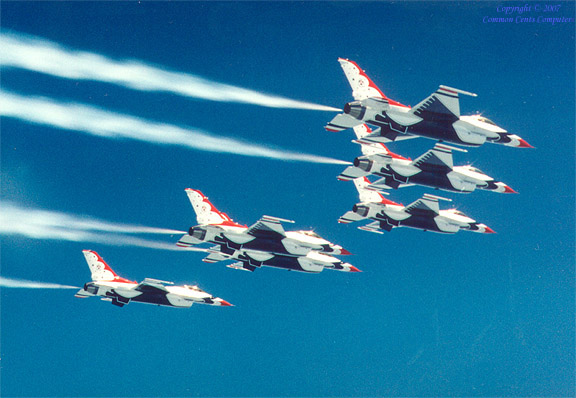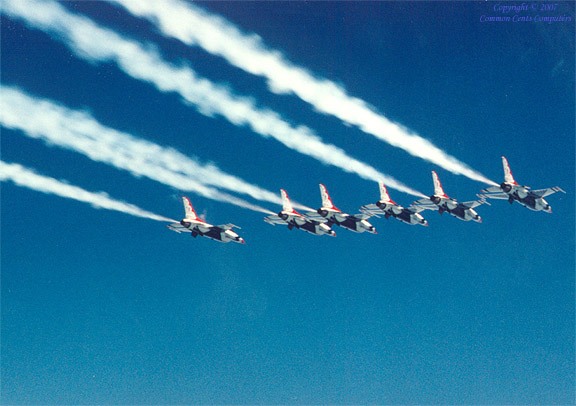 And off they go - into the wild blue yonder...

Thunderbird pictures taken by Lt. Colonel Bill Neville, 186th Wing Mississippi Air National Guard, somewhere over Southern Mississippi

Bill passed away unexpectedly November 26, 2001 - he is sorely missed.
---
Email: Randy and Sherry Guttery - Comcents.com
---

Back to Glimpses main page
Glimpses of Meridian, Mississippi
Contents of this site are copyright © 2007 & 2008 Common Cents Computers. All rights reserved