Glimpses of Meridian, Mississippi
---
Trains
Part 1
Queen City Rail Fest - November 3rd, 2007
As a celebration of Meridian's railroad past - each year the Queen & Crescent Chapter of the NRHS holds an event at the Meridian Railroad Museum adjacent to Meridian's Union Station. Here are a few pictures (including four new pictures from several years before):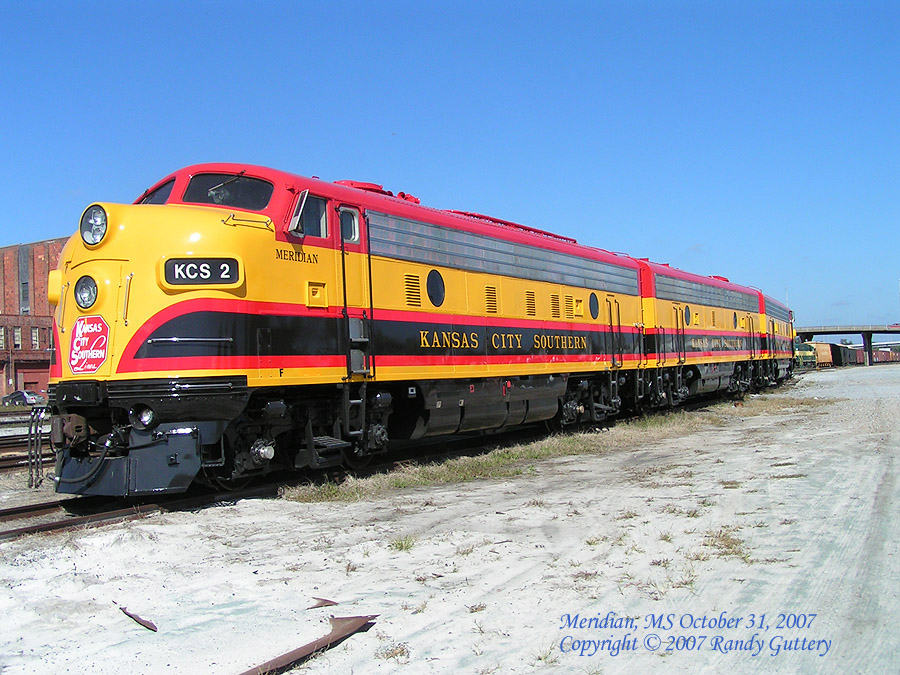 Kansas City Southern FP9 Units - "headed" by KCS2 "Meridian" - parked at the KCS yard office just west of 22nd Ave. overpass, Meridian, MS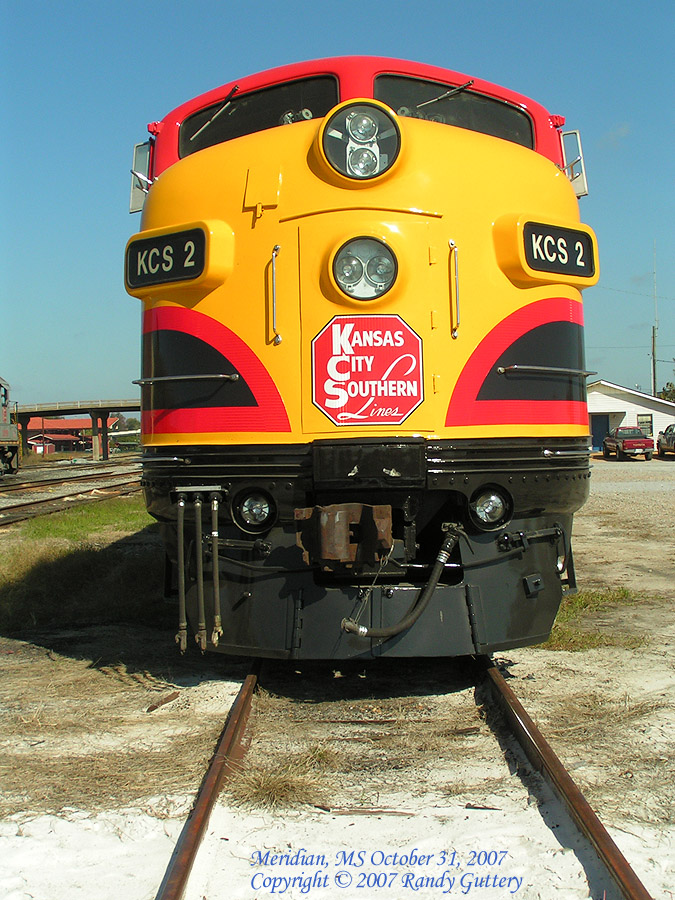 Standing "toe to toe" with the mighty giant. KCS2 "Meridian"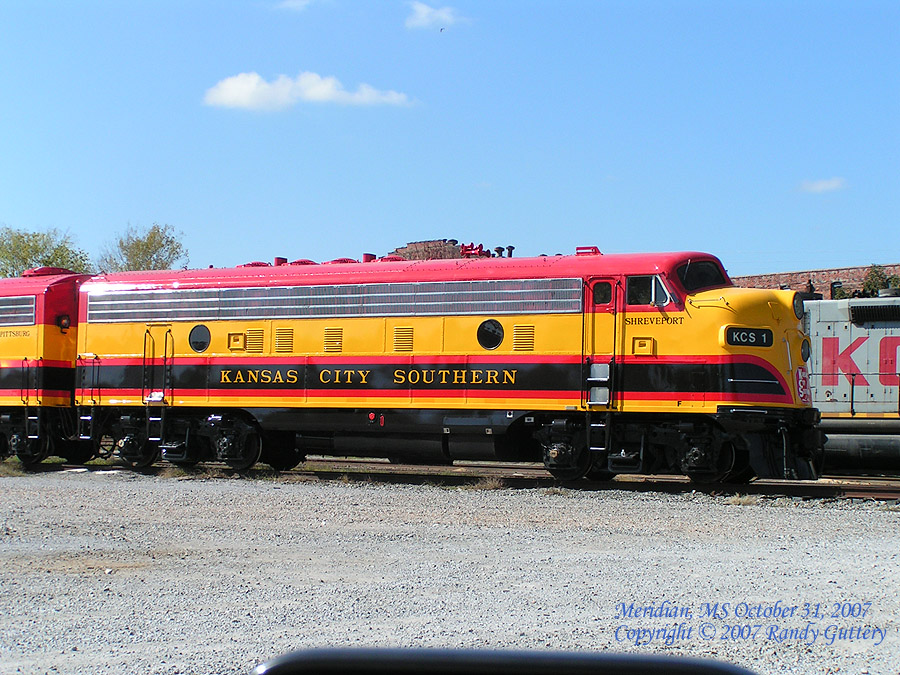 Kansas City Southern KCS1 "Shreveport"
---
KCS1 wasn't always "Shreveport" - and KCS2 wasn't "Meridian, either. Once upon a time - they were just the opposite - KSC1 was "Meridian" - and KCS2 was "Shreveport". Why the change - I don't know but here they are in Meridian a few years ago.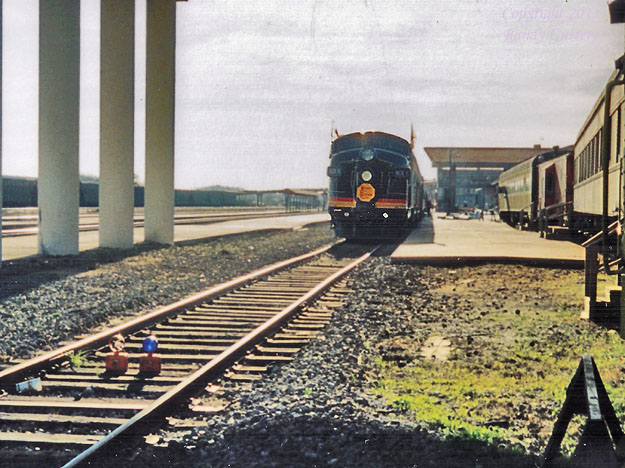 KCS1 "Meridian" next to Union Station. Picture late in the day - into the sun - and the print is getting old...
From this angle - you can't read "Meridian" on the cab - but...
---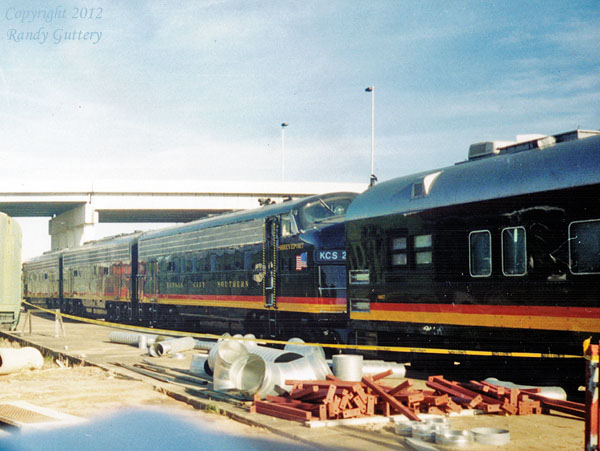 From this view - KCS 2 "Shereveport" is clearly visible.
As one can see - construction was underway in the area.
---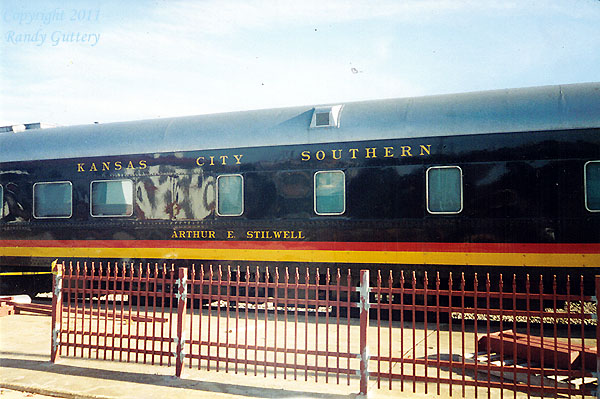 One of the business cars - the Arthur E. Stillwell car.
Mr. Stillwell was the founder of the Kansas City Southern Railroad.
---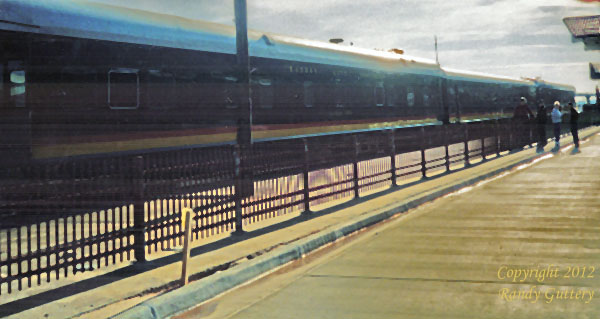 The rest of the business train at the platform - unfortunately - looking right into the sun
---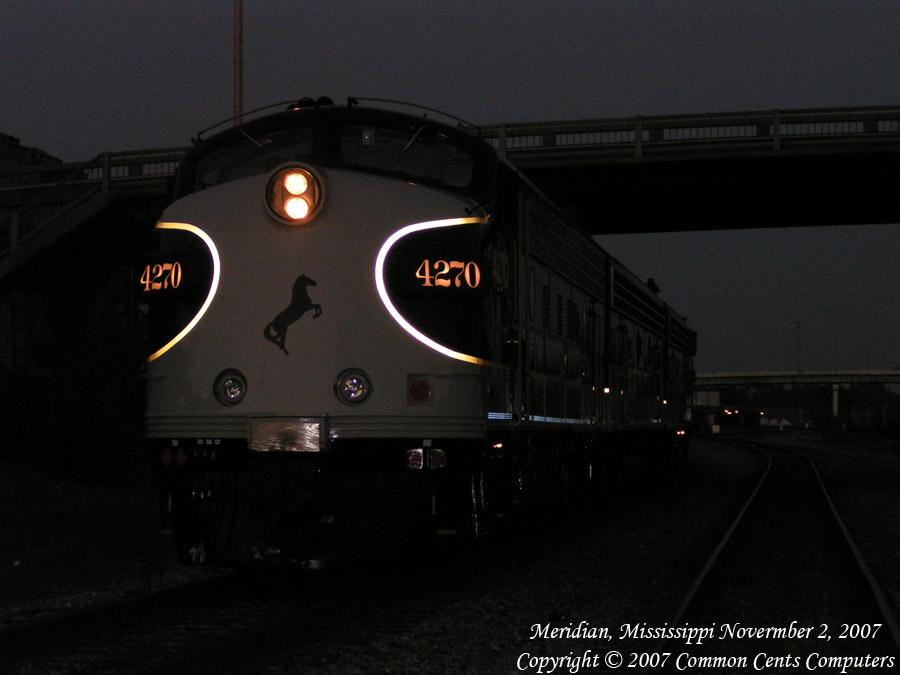 Evening picture of Norfolk Southern F units - 4270 and 4271 - with "B" unit 4276 parked under the 22nd. Ave. bridge, Meridian, MS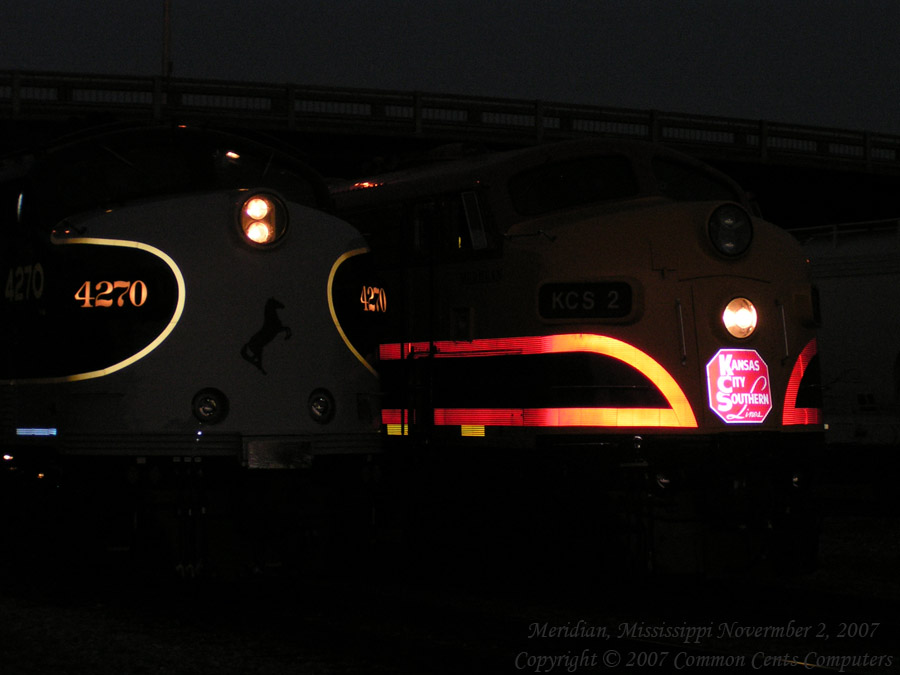 NS 4270 "F9A" and KCS KCS2 "F7A" share a moment before they roll under the 22nd. Ave. bridge towards Union Station, Meridian, MS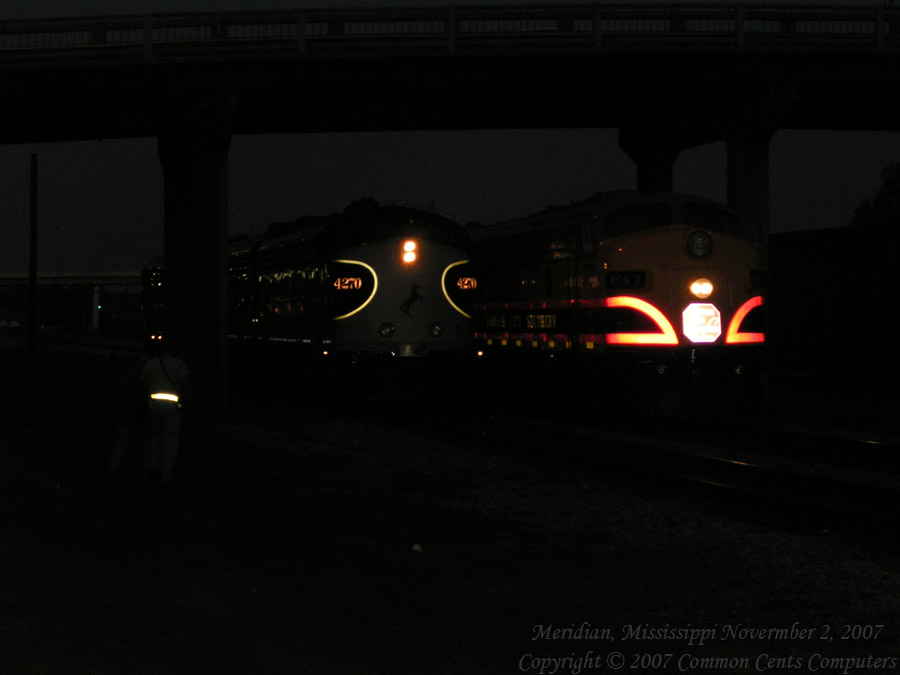 Truly awesome sight watching these two giants of the past glide towards Union Station, Meridian, MS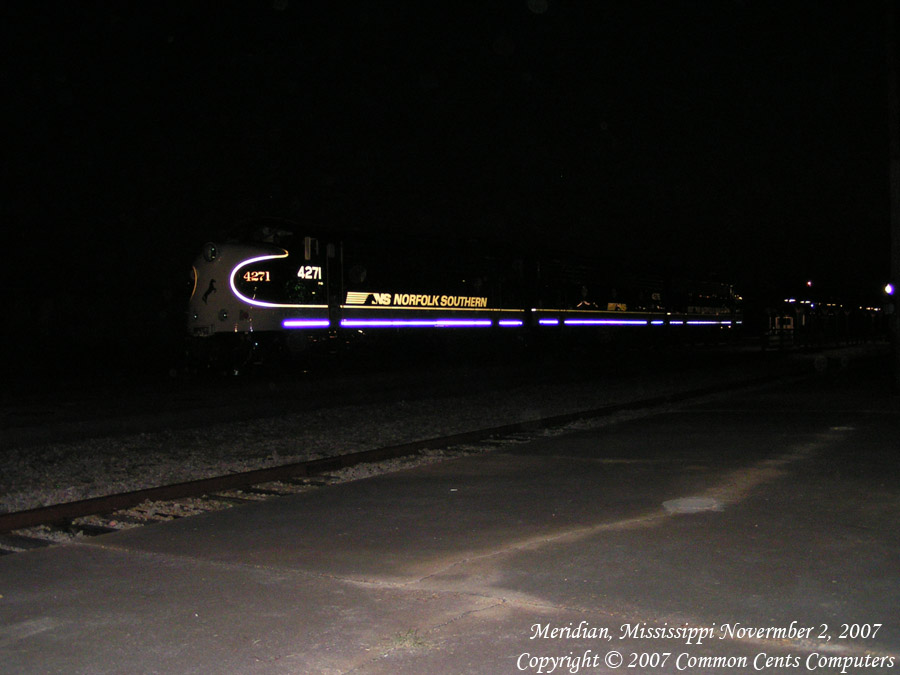 Evening picture of NS 4271 parked at Meridian's Union Station. Flash used to capture the dramatic reflective striping.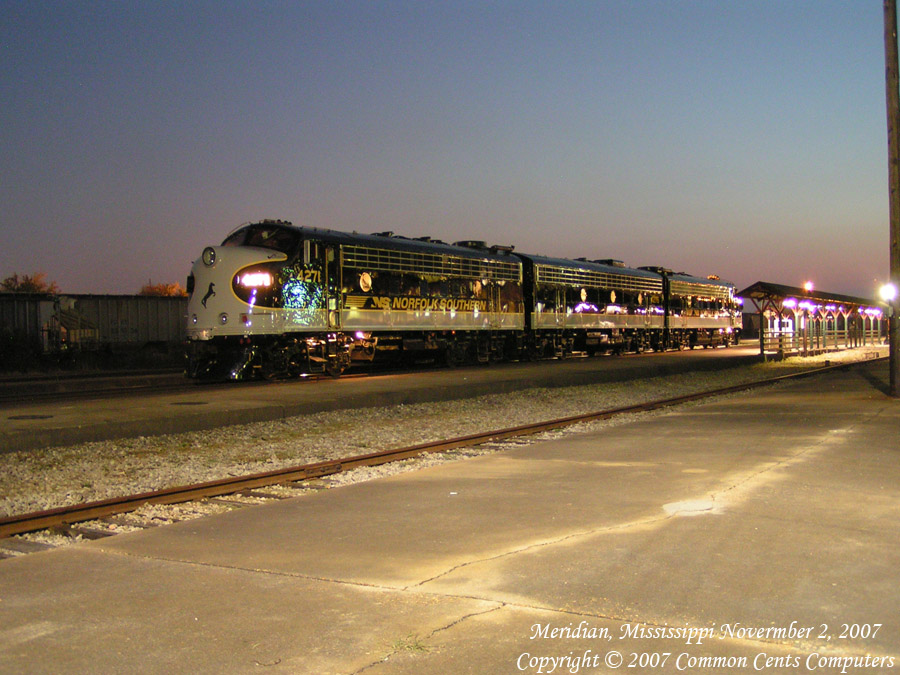 Time lapse picture of the Norfolk Southern triplet -two "F9A"s and an "F7B", Union Station, Meridian, MS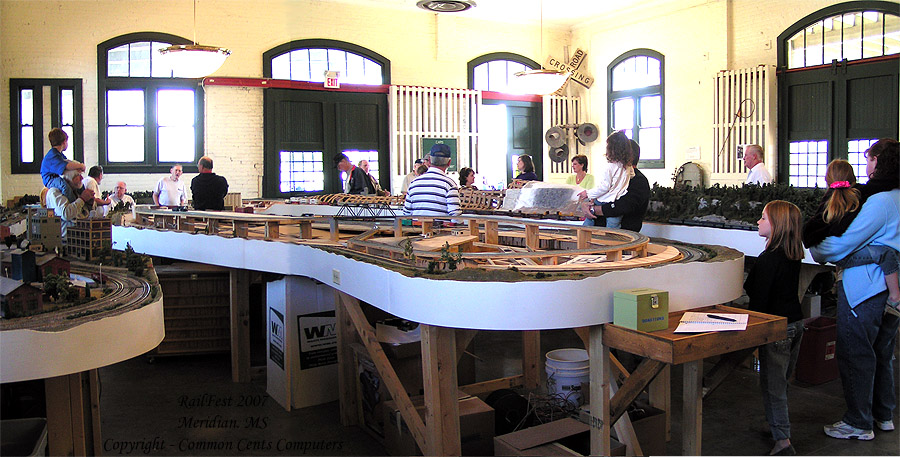 The Queen & Crescent Chapter of the National Railway Historical Society has a wealth of historical and working railroad equipment. Their museum ranges from historical railroad memorabilia covering more than 150 years of railroad history in Meridian; to vintage railroad cars which are on display on a siding outside their museum. The museum is housed in the old Railroad Express building next to Union Station, downtown. Displays inside include memorabilia ranging from old maps and historical records to schedules and menus from relatively recent passenger lines; displays of railroad equipment - including a training simulator for teaching the correct operation of a steam engine; old rail maintenance and safety equipment; as well as the community's HO gauge model railroad layout - seen here.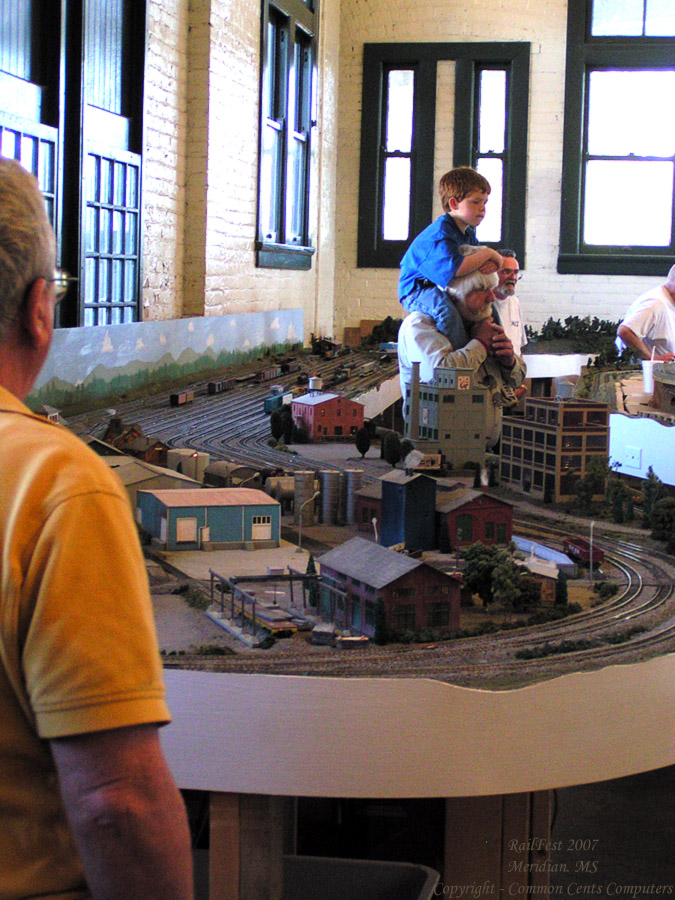 Although small in size - the railroad is operated just like the full-sized lines - with train orders issued by a dispatcher and block control through signaling - or track warrants via radio.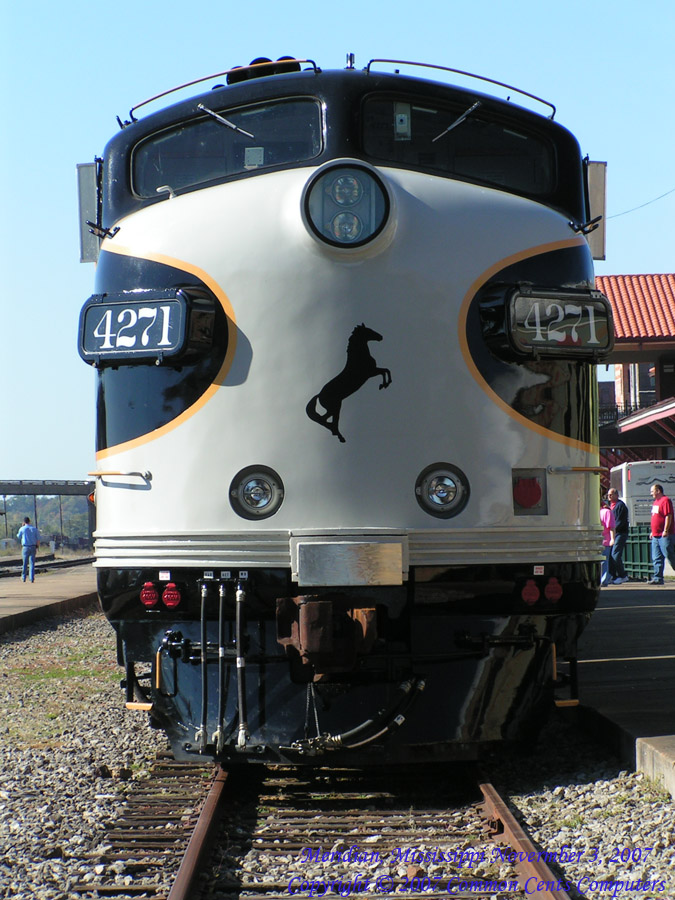 "Toe-to-toe" with Norfolk Southern's 4271 F9A. You don't realize just how large these are - until you have one "breathing" on you...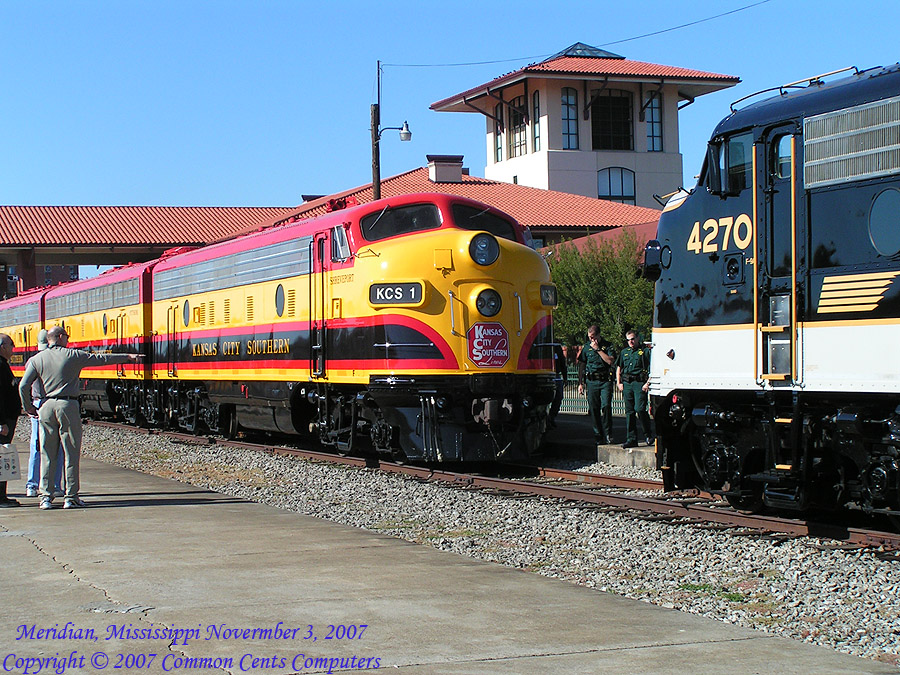 A pair of EMD F units meet "Nose-to-nose" at Meridian's Union Station: KCS 1 and NS 4270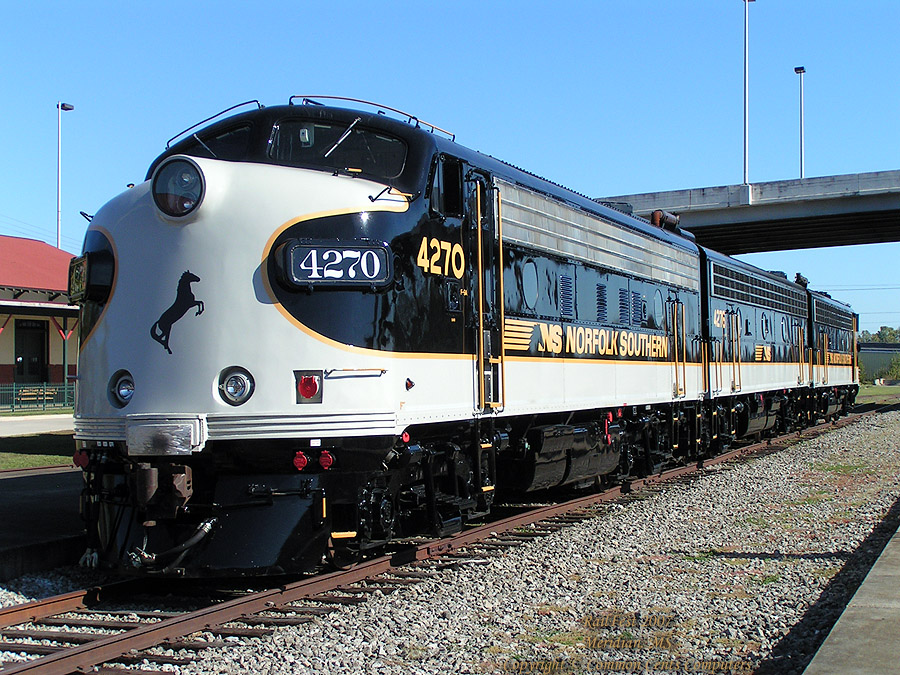 Norfolk Southern's "set" of F units - two EMD F9As with an EMD F7B between. These are used as "Executive" units - used to pull special passenger trains - and to promote the railroad at events like RailFest 2007.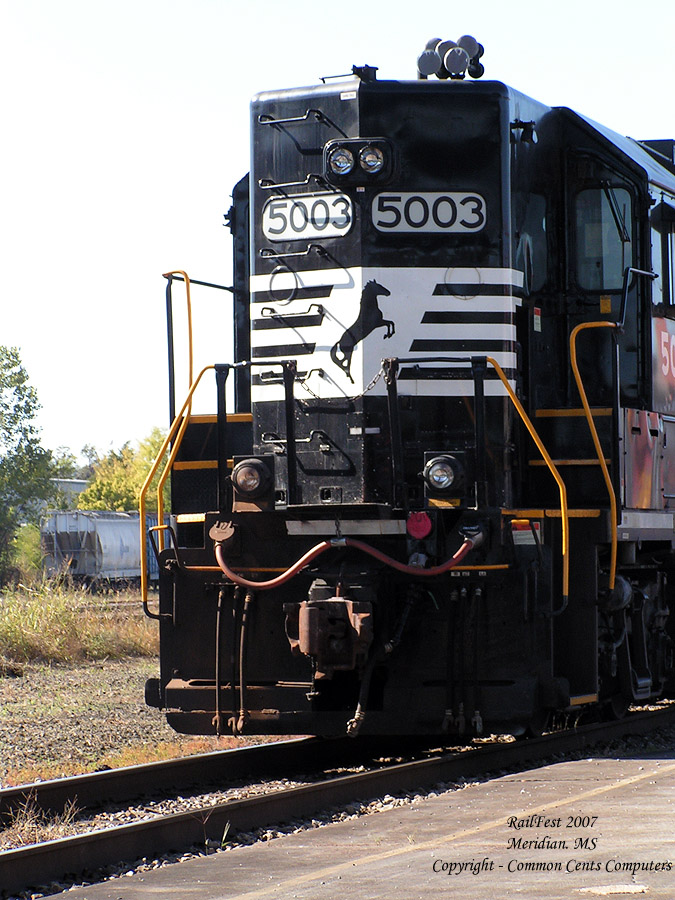 A working engine arrives... Norfolk Southern's EMD GP38-2 - a 2000hp "road switcher".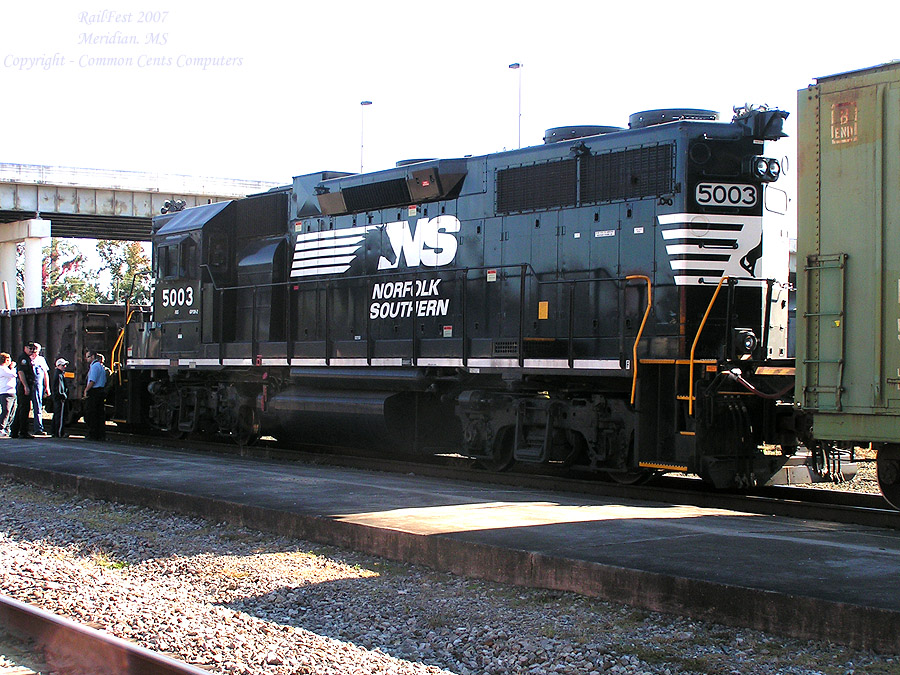 ...and is made available for people to inspect. This is a great opportunity to introduce children to railroad equipment in a safe and controlled environment so their curiosity can be satisfied - it's also a great opportunity to allow them to discover the extreme danger that rolls along the tracks - more than a couple of pennies were sacrificed in the service of demonstrating just how awesomely heavy this equipment is - and what would happen to a body part that might suffer the same fate...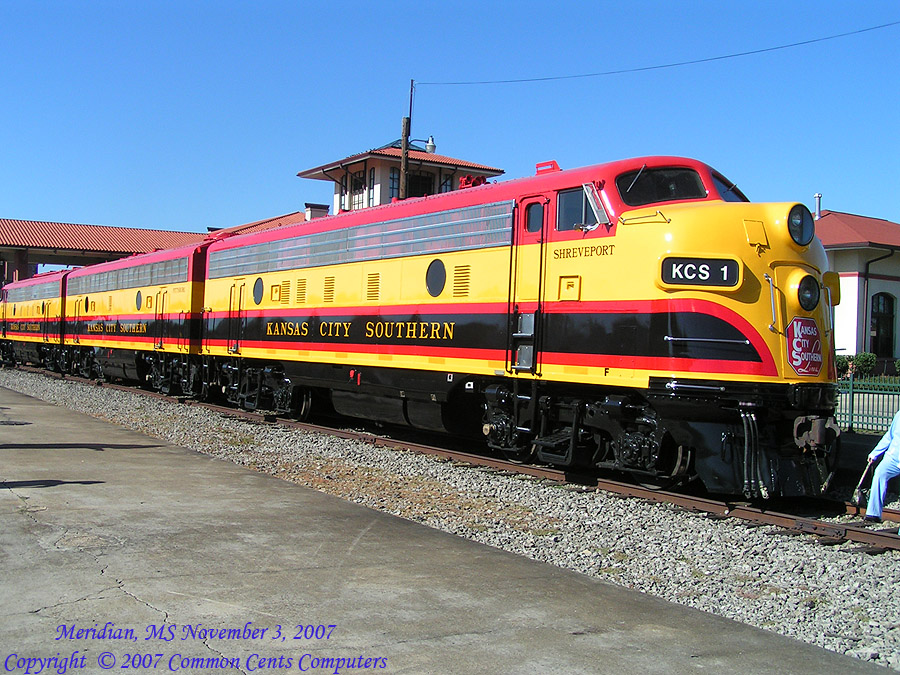 Seeing these sitting here like this - it isn't too difficult to imagine a full compliment of passenger cars loading just out of view...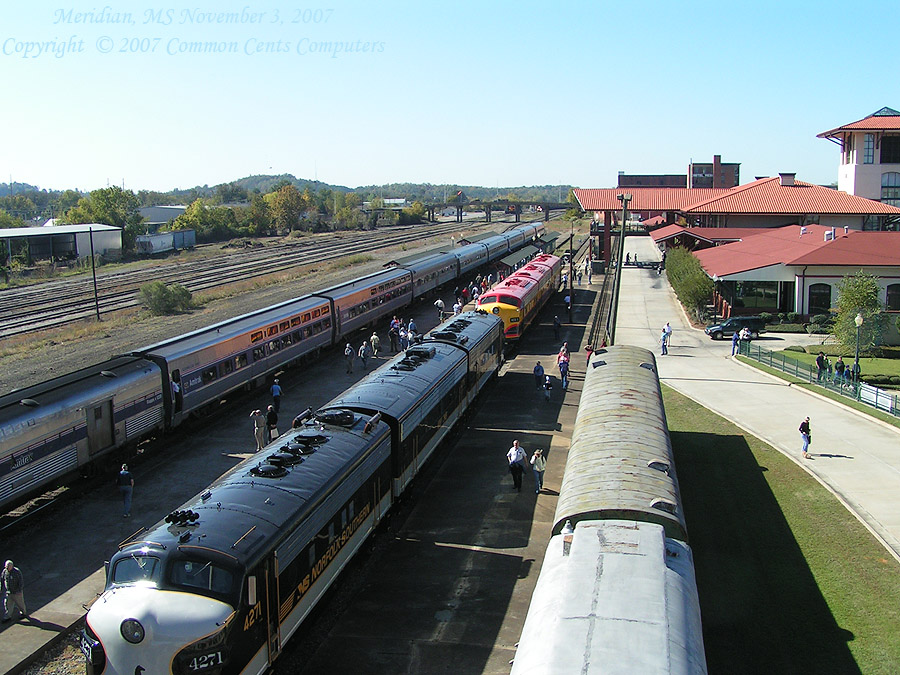 And in fact - that's just what we see here. Union Station is an active stop on Amtrak's way between New Orleans and Washington D. C.
Simply by it's arrival - Amtrak becomes part of the festival
Click on this picture for a short video of the HO layout at the Museum - and Amtrak departing...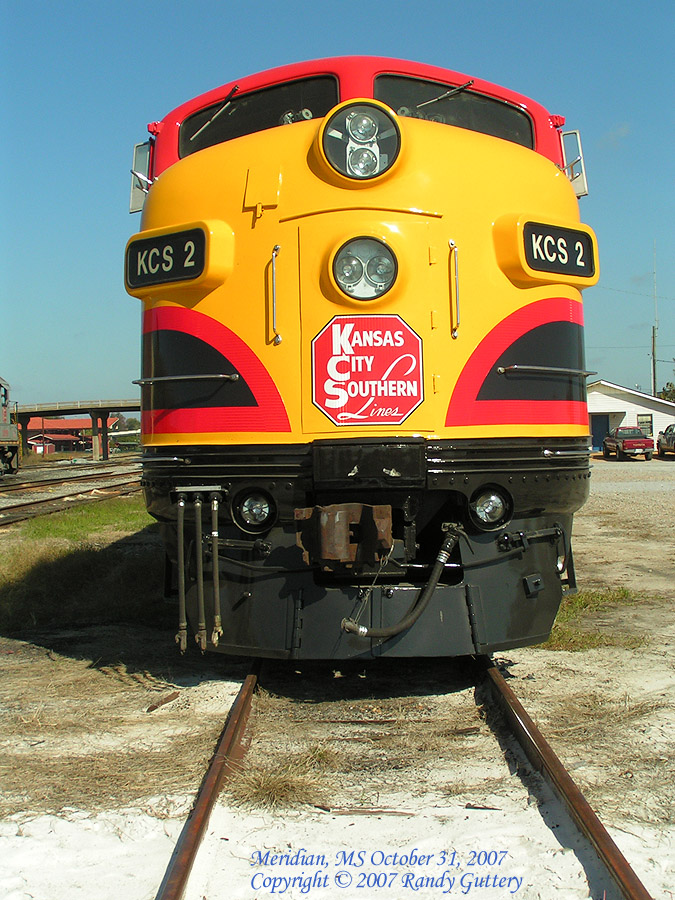 ---
Email: Randy and Sherry Guttery - Comcents.com
---

Back to Glimpses main page
Glimpses of Meridian, Mississippi
Contents of this site are copyright © 2007 & 2008 Common Cents Computers. All rights reserved